American Silver Eagles by John Mercanti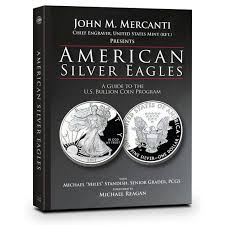 In it's short 25 year history, the Silver American Eagle has become an American collecting favorite.
What once was intended as a way to sell off a portion of the strategic silver stockpile, had become a coin. And although it had what seemed to be a ridiculously low face value of $1 compared to it's market value as a bullion coin and therefore would have no chance of circulating or being used in commerce as most coins are intended. It would blaze an entirely new trail in collecting. The bullion coin was now on the collecting map.
As this new area of coin collecting has developed, a definitive reference on the series has become more important.
John Mercanti's insight into the US Mint during the planning and execution of the American Eagle Bullion Program makes him the quintessential expert on these coins. The fact that he designed and engraved the reverse makes his qualifications unique.
Beginning with a history in pictures and words, American Silver Eagles  guides us through the back story of the Bullion program and how the Silver American Eagle came to be. Mercanti takes us behind the scenes at the US Mint during its planning and execution taking the reader places normally reserved for those "in the loop".
Mercanti then discusses each coin on a date by date, finish by finish and even set by set as he covers the entire history each Silver American eagle coin. An accounting of mintages and mintage limits is discussed and general grading population and relative value is provided by PCGS Senior Grader, Miles Standish.
The new second edition is updated to cover the 2013 West Point Eagle Set and discusses the processes for creating special coins such as the Reverse proof SAEs and the new Enhanced uncirculated coins.
Not only an attractive book with rich illustrations and line drawings of coins and coin designs, American Silver Eagles – Second Edition provides rich data on  issue pricing and details of the varied special sets offered through the years.
In fact, it is so complete that it had included a Silver Proof Set inclusive of a Proof Silver ASE that most, including this author, had forgotten about.
This book is an island for collectors in a sea of other references. The first of it's kind that can hold its own with the redbooks and official guides of traditional series. A salute of respect to a series that for too long now has not been given it's due.
A must for the well-read American Silver Eagle collector. If you want info on the American Silver Eagle program, I can think of no better place to look than Mercanti's American Silver Eagles.