Cash In Your Coins: Selling the Rare Coins You've Inherited by Beth Deisher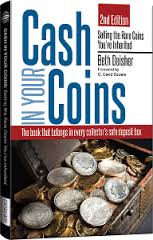 Seldom do I read a book and not feel better for the experience, but only on rare occasion do I discover a new book that not only makes me want to put it in my own personal library but makes me want to put it in everyone else's numismatic library as well.
"Cash In Your Coins: Selling The Rare Coins You've Inherited" is more than a book, it's a blessing, and I use those words with full knowledge of the weight that they carry.
At first glance of the title, I figured it was a book about how to find value in the everyday coins that one might have lying around and I don't think I could have been more wrong. EVER!
The rest of the title goes on to fill in my blank: Selling the rare coins you've inherited. This book is about rare coins, not pocket change. But this book is not your average coin book. In fact, I dare say that it's not like any coin book that has ever been written before.
This book is written for the express purpose of helping people who may very likely have never encountered a rare coin before.
When people inherit coin collections, more often than not they know very little about coins. It's also likely that they know even less about their benefactor's coin collection, let alone their specialties or interests.
Cash In Your Coins is brilliant because it is written for the heir, not the collector. It helps someone who has just inherited a coin collection to figure out what they have so that they can sell them and avoid being cheated in the process.
It helps someone who knows nothing about coins to divest of their gift and cash it in for top dollar.  Allowing heirs to do so in a manner that assures them that they've done right by their benefactor and their years of work invested in the hobby. It also reinforces in the process, that they have received the whole of the gift that they've been given.
This book is excellent at foiling the predatory middleman who can, and often do, give our hobby's dealers a bad name.
"Cash In Your Coins" helps you take a collection of virtually any sort, break it down into components and organize them so that you can determine the collection's value before you go to sell. I was impressed with how Deisher systematically breaks things down using a method that works with virtually any accumulation.
The author has even given the forethought of tax implications to the heir and explains why properly valuing coins is a smart idea from a tax standpoint.
Any collection, be it a big one, small one, a specialized and valuable one, or just a bunch of stuff like Elvis coins and Obama stickered half dollars, can have value.
What heirs need most is an expert to help them sort through the coins and determine what is the best way to sell them. Usually this expertise comes at a price and although it's well worth it to have a dealer look through it, many won't for numerous reasons.
Beth Deisher's book is like having that expert on speed dial to answer your questions. You benefit from her years of experience, without having to sift through volumes of books to learn it. She does so in a easy-to-read style that doesn't get bogged down in unnecessary details.
So, how is an average, unknowledgeable, know-nothing-about-coins person going to know to buy this book when the time comes? They won't, likely, but here is an example of why this book is so good and it's given to you on the front cover in Deisher's own words:
She suggests that "this book belongs in every collector's safe deposit box". And she's absolutely right!
Priced at under $10, this is something that you should put with your collection or with your important papers for when it comes time to pass your collection on.
You will enjoy giving it a read before you do, as it is light and enjoyable. Feel free to write notes in the margins! Inscribe the cover to your heir and leave a lasting memento of a beautiful gift and some great advice that they can cherish forever.