Ever wonder what it's like to enter the World's Fair of Money?
PFC Irvine
Executive Producer for The Coin Show Podcast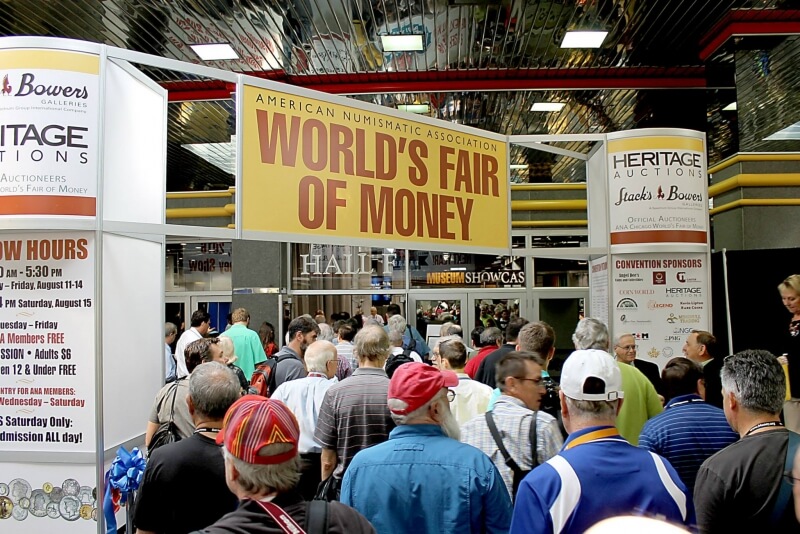 With great excitement this year I will get to go to the treasure hunt that is the American Numismatic Association (ANA) World's Fair of Money (WFOM) coin show and convention. Every year it feels like my first time entering the Bourse floor of the WFOM.
This year the WFOM is in Chicago, IL a six-hour drive from my home in Minnesota. During the drive the possibilities of what I will find race through my mind at one hundred miles per hour. Will I find a rare variety of large cent? Will I find a majorly under-priced coins? Will I get to see a unique coin where only one was made? Will I find the new augmented reality banknotes for my collection? Who will I meet and make new connections with? The list is endless.
After arriving in Chicago on Monday, the day before the show, I will check in to my hotel, grab some dinner and get a good night's sleep. On Tuesday I will get up with the energy of ten 5-year-old boys on Christmas morning. First, I get breakfast. Then I will pack my coin show bag with a loupe, a PCGS box, a NGC box, and a Greysheet. Then I will be ready to go.
When I approach the massive convention center the anticipation will be at its peak. I will feel like a dog waiting for table scraps with so much energy they turn in circles, sit pretty and bark just trying to get that small piece of leftover meat. When I walk up to the actual double doors to the show I will have a small doubt in my mind that the show will be not nearly as big as I remember. That all year my mind made it feel larger than it was.
When I will walk in through the doors just feet away from the nearest table I will look out at a sea of dealers so big I can't see the last row. I will then scan left and right. I will see where the unique multimillion dollar exhibits that contain coins I have only dreamed of are at. I will also see the world mints, grading companies, auction houses with their upcoming lots and many famous numismatists. The shear scale of the WFOM coin show is breath taking and awe inspiring. It is one of the few shows each year where if you are looking for almost any US coin you can find it on that bourse floor.
The question I am always left with is "where in this room do I start looking for my new treasure?"