PCGS Guide to Grading and Counterfeit Detection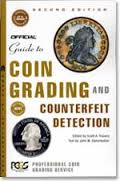 There are, in my opinion, 4 books so essential to collectors and experts alike that they provide the cornerstones of coin collecting knowledge. These would be: A Guidebook of United States Coins, the "Red Book", Photograde, Cherrypickers' Guide to Rare Die Varieties of United States Coins, and The PCGS Guide to Grading and Counterfeit Detection.
Walk in to any operating coin shop in America and you will find 3 if not all 4 of these books on owner's desk and they will be heavily used. 
Very seldom is a reference book written that impacts the hobby as much as these 4 have but Scott Travers' and John Danreuther' "PCGS Guide to Grading and Counterfeit Detection" is without question a reference worthy of inclusion in this rare breed.
The PCGS Guide lays out the whys, whats and hows of United States coinage in extraordinary detail. It begins by defining what a coin is, how to handle and store them. Then the book switches gears and goes from interesting to absolutely fascinating.
In order to learn to grade coins, one must first understand the language of grading. What each term means within the context of grading so that an accurate grade can be assessed. So a complete coverage of terminology begins first.
PCGS has been the leading TPGer for many years. Their standards are some of the most respected in the hobby. Many of the top dollar coins have been graded by PCGS because of the general respect for their opinions. 
With this book you can learn PCGS' grading standards from them. It's like taking a course in grading, but in the form of a book that you can re-reference over and over again.
The material covers copper coins, nickel coins, silver and gold. This book is like a teacher in that it not only describes the standards in detail, but shows photographs of the grades for some of the most popular series in US coinage including classic commemorative Half Dollars.
Problem coins are also discussed. There are photo examples of "thumbed" Morgan Dollars, different types of toning including artificial toning, what hairlines look like on proof coins, alterations and other coin doctoring methods. The guide also covers the proper colors for grading red and red brown copper coins, 
Now if this were all that this book had to offer, then I would say it is worth twice it's price, but this is really only half of the story.
The counterfeit detection section of the book is absolutely invaluable. If you buy coins, this book will likely pay for itself in the mistakes it saves you from making. 
The PCGS Guide starts by explaining the different types of counterfeits: cast, spark-erosion, electrotypes, transfer dies, and modern forgeries and alterations. Side by side photographs illustrate the counterfeit and the real thing. You can finally see what the experts have learned to look for. The actual diagnostics of not only the genuine articles, but what the tell tale signs of the fakes are.
This is an education previously only available to those who had someone to teach them about coins. Someone who was willing to show you things hour after hour and coin after coin and better yet, be accurate with everything that they say. A mentor that up until now so few of us have been lucky enough to find.
An education in United States coins and their grading would be an apt description, and this book is a 400 level college course. Easy to understand and clear in it's language, The PCGS Guide to Grading and Counterfeit Detection is not only a must have reference but an all around good read. I find myself oftentimes just reading through it because the information is interesting.
If you buy coins, this book will pay for itself over the course of your purchases. An investment that pays dividends for years to come.
Often times I discourage people from investing in coins. Invest in books, I always say. This book is an investment in your coins that I can heartily endorse.