Coin World Almanac by The Staff of Coin World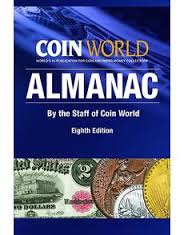 Eighth edition published in 2011 with the original published in 1976. It contains almost 700 pages of news, history, and information all pertaining to coins and coin collecting in the United States.
This is not your typical novel or even set up like a typical book where you can sit and read the chapters, this book is a true reference work with it's chapters concentrating on unique subjects. you can jump from place to place without losing context. The Almanac starts with news from the coin world over the last 10 years written in a chronology and clearly divided year by year.
What follows that is a researcher's dream. Starting with a discussion of numismatics and the law, The Coin World Almanac publishes pertinent excerpts from the laws that affect our nation's coinage. An example is Title 31, which was the law that established the US Mint, the denominations of our coins and their content as well as inscriptions and mottoes. This law was the only coinage law in the United States until the Coinage Act of 1873 and the revised coinage statues of 1874-78. While the book may not publish the entirety of Title 31, it does excerpt the parts of that law that refer to coins and coinage. It gives you the meat of the subject on coins, and discards most of the rest.
The text of Roosevelt's executive order that recalled private gold ownership is included in this chapter as well as the Hobby Protection Act and the Freedom of Information Act. Not all laws are published in their complete language, but often a website link is offered for the sake of brevity. If you'd rather have a summary of the relevant coinage laws, their date and their purpose, there is a handy chart in Chapter 3 that can be used a bit more easily to find specific Acts and their stated purpose. Everything from the legislated purpose of The Commission on Fine Arts to the Citizens Commemorative Coinage Advisory Committee is explained using the authorizing legislation as a guide.
Then the book gets really good and what follows after that is what I can only refer to as "a researcher's dream." A Chapter on "Numismatics and Washington" lists the who's who of coin action in Washington. The addresses for contacting public officials from your State Representatives, to Senators and even how to contact the White House about coin related matters. But a phone book it is not. The Almanac describes the function of the various government institutions and how they relate to coinage.
Descriptions of the FBI, FTC, GSA, National Archives, Commission on Fine arts, even the General Accountability Office are included. Sometimes people complain that although they may have a good idea for coinage or the improvement of our coinage, they don't know who to contact or what department is best suited to direct their idea toward. the inmformation that they need is in this book!
And then there's what Almanacs are best at; history. A complete history of the Department of the Treasury along with it's Secretaries, and other officials is interesting but kept dynamic through each edition. The 11th edition notes that although the US Secret Service and US Customs (now known as US Customs and Border Protection) are now part of the Department of Homeland Security, they will remain within the Chapter on The US Treasury for continuity's sake. The history of the US Mint is absolutely enthralling and it's volume of information is staggering. It includes current and former officials and facilities, institutions, directors, superintendents and chief engravers as well as the current engraving staff. It covers the Artistic Infusion Program, seignorage, and an in-depth history of the US Medals programs. And if you think that coins are the end of the almanac, think again! Paper money is covered in the same depth. From the BEP, and it's function, to the different types of paper money and MPC, the portraits on them and the processes by which they are printed.
Now most books would consider that a complete reference and if that was all that this book contained, I'd be happy with it, but then, in true almanac form, there are pages upon pages of hard data about the coins of the US. Starting with the history of US coins from 1793 and how they are and were made, the mint specifications for each coin for size, weight, and composition are included. A discussion of proof coins from 1817 – date covers what defines a proof coin, the history of branch mint proofs and mintage figures for all proof coins made during that time. Sales figures for proof sets and Mint Sets from 1983 can also be found. The actual mintage figures for all United States coins by date and denomination is included and if you ask me would make a great book on it's own. Many references don't publish actual mintage figures for current coins, or at least they lag years and years behind. The Coin world Almanac delivers this information (inclusive of last years figures) in a clear and consise format that is easy to research, and easy to understand. You don't have to be a Collegiate level researcher to find the answer to your questions, they're all in here!!!
The Almanac continues with sections on commemorative coins and errors and handles these subjects with the same dexterity as the rest of the book. the information included is just too much for me to describe. Another surprising inclusion in the Almanac is a numismatic chronology of US and foreign coins. The book shows when each coinage was established and a brief synopsis of major points in that country's numismatic history.
Sections covering precious metals and bullion, grading, counterfeit coins, rarities, exonumia, round out the book with again, too much information to list. There are also chapters on Museums, books and periodicals, and organizations to join. If you can think of something related to numismatics that's not found in this book, I'd like to know what it is, because I probably just failed to mention it.
This book is a must have for any researcher or writer in the numismatic field. It is a wealth of information for the novice and expert alike. Well written and organized, the Coin World Almanac can be held in the highest regard of numismatic literature. If you want to learn about coins, their history, or how they're made, you can find it all here. This is not a book that will collect dust on your book shelf. This is a numismatic reference that will become tattered and frayed in a short time. The hallmark of numismatic classics is in the amount of usefulness that they provide. If the field of numismatic books were a heavywieght fight, we'd have a serious contender in the Coin World Almanac.