Photograde by James F. Ruddy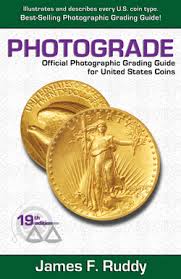 Learning to grade coins is the basic skill that separates the beginners from everyone else in the hobby of coin collecting. Your skill at grading coins will develop over time and experience as you look at hundreds if not thousands of examples of the series that capture your interest.
In fact, I would go as far to say that it is this skill at grading coins that enables many to buy and sell coins at a profit. This skill is what separates the experts from everyone else.
But how do we develop this skill initially? In the early part of the 20th century collecting United States coins was still a relatively new thing and  the grading of coins was a much less exact science than it is today. Coins were graded as Good, Fine, Ex. Fine, and Uncirculated. Proof coins were referred to merely as proof. There were no AU or VF grades and no distinction between uncirculated coins from low end to perfect. Uncirculated was indeed uncirculated and if you wanted to compare two specimens, you had to look at them side by side because grading descriptions fell short.
Thankfully, in 1970, James F. Ruddy published "Photograde – Official Photographic Grading Guide for United States Coins." What happened next was little short of a revolution.
For the first time in history, if you wanted to know what an average example of a Walking Liberty Half in a grade of  Fine looked like, you could find a picture, learn the key distinguishing features for that coin in that grade, the grade below, and the grade above and through this process, you, the reader, learned how to properly grade a coin series without the years of experience in viewing coins that were necessary in the past.
Originally published in 1970, Photograde is now in it's 18th Edition.
The publishers have updated it from time to time as new information has become available. The book lists all US series from the 1793 Large Cents through the $20 St. Gaudens Double Eagle and is layed out in a very basic format. It is available in both paperback and hard cover.
Chapter 4 begins by listing the coins with descriptions and pictures at each grade level sometimes showing arrows to highlight an area on a coin that needs very close attention. It's like having your own private coin tutorial in a book.
No matter which series interests you, you can find the grading aspects in Photograde.
Let me make this point very clearly, however. This is NOT a picture book. If you notice, I said that the photos and descriptions start in Chapter 4. The first 3 chapters are dedicated to grade definitions, aspects of a coin's grade, and other aspects of value. They describe  the Sheldon grading scale, intermediate grades, and coins with split grades in detail. These are essential points to know if you want to properly interpret and understand the grading descriptions contained within Photograde.
The information presented is short, clear and concise. Perfect for quickly determining a general grade for a circulated coin.
The general idea is that most designs will wear in basically the same places as they degrade from a Mint State to being worn completely smooth. Knowing the highest points in a coin's design helps to point you in the general direction of where to look. Photograde not only points out these "high points" of the design, but also describes how much of the design is necessary to be present in each specific grade.
Being told that "half of the feathers must show" on the reverse of a Walking Liberty Half in order to grade Fine, is one thing. Being shown what "half of the feathers present" looks like is far more valuable, especially to a less experienced collector.
Photograde does not, however describe Mint State coins other than as an aside that they are coins which are free from any wear. Grading Mint State coins from photographs is not recommended as the differences between grades are much too subtle to capture with a camera and are very easily manipulated. Study of TPG graded coins are the best tools for learning these skills.
Photograde by James F. Ruddy is a book that can be found on the shelves of both new and advanced coin collectors. A timeless reference that has changed very little over the years. The pictures are a fabulous tool for comparison purposes with actual coins, or just for study and learning.
They say that a picture is worth a thousand words. If that is true than this book speaks millions.
It's one shortfall, IMO, is the fact that it only covers the realm of circulated US coins. Mint State coins are a huge part of the hobby now and many collectors want to learn the difference in these Mint State grades. Sadly, this is beyond the scope of this book. Error coins are also missing from this reference, but that is the subject of entire books and would not be covered in the depth necessary to be included.
One inescapable fact in the world is that "Knowledge is power". In the world of coin collecting the knowledgable reap the fruits of the hobby and the unknowledgable are never really sure of what they have in a coin. Books like Photograde help to narrow the gap between the two. Most collectors consign themselves to either one or two series because the expertise required to be a true expert is so daunting. This limits not only the scope of their collections, but their enjoyment in the hobby. Broad knowledge expands not only horizons, but possibilities.
We can all thank James Ruddy for helping to expand our collecting horizons. For bringing the entire world of circulated US coins within our grasp. I cut my collecting teeth on this book as I am sure many have. Many of the mistakes that I made initially could have been avoided by consulting this book.
New collectors enter the hobby almost daily. The ones that have a copy of this book will be better prepared to face the challenges that await them.
For intermediate collectors, this book will reinforce the grading standards and help build a "mental image library" that you can reference when browsing coins at shows or online.
As for the advanced, Photograde has enough detail to refresh your memory with facts on less familiar or less common series of coins. It also works as a fabulous teaching reference when sharing your knowledge.
Photograde by James F. Ruddy has always had a place in my reference library as well as the libraries of many others. In fact, I would be willing to bet that if you look at your favorite coin dealer's library, you will find a copy of it there as well.