The Official ANA Grading Standards for US Coins 7th Edition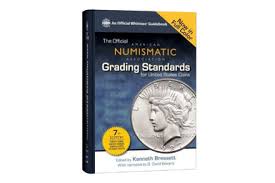 When value is measured in any collectible, determining its state of preservation or condition is probably one of the most important factors. Determining the condition of a given piece is what's more commonly referred to as grading and in order for any stated grade to have significance with the collecting public there must be accepted grading standards.
The modern TPGs have their own standards. Both PCGS and NGC have published theirs in book form. Personally, I think that the best part about publishing any standard is that it holds you more accountable. It sets a mark that can be used to measure things going forward. But alas, nothing is ever really permanent and grades and grading will evolve over time. Accepted standards will change and when they do, changes will not go unnoticed if the standards are  published. I think it holds the standard-bearers more accountable.
The American Numismatic Association's grading standards are what I like to refer to as "the people's grades" because they are kept by the ANA which is a dynamic, member-driven and constantly evolving organization, but one comprised of the people who benefit most from these standards, numismatists. It doesn't have some of the same profit-driven motives as the TPGs but rather it has more of an obligation to numismatists to keep things consistent and true to the hobby.
With Ken Bressett compiling, editing and arranging the grading descriptions and Q. David Bowers supplying the narrative text, you're in for a comfortable read as readers of  "A Guidebook of United States Coins", or virtually any of the Whitman RedBook series will know. The authors have been two of if not the two premier writers on coins and coin collecting for many years. Bowers and Bressett can explain sometimes complex subjects in a very simple, direct and relatable manner.
The 7th Edition of the Official ANA Grading Standards, published by Whitman, is a welcome update. Last published in 2006, the new 7th edition is slightly longer, (with over 20 pages of text and helpful information added), but that bury's the lead. The biggest and best reason to buy the new 7th edition of the ANA Grading Standards is that it is now in full color. Every page, every picture given to you in rich beautiful color illustrations.
If I were to be critical at all of older editions,  this was the biggest weakness. The black and white pictures lacked in giving me a feel for the look of coins. There is a limit to what can be communicated in greyscale.
To be fair, the 6th Edition had 8 pages of glossy photos entitled "Grading and The Marketplace" which illustrated toning on coins and what was market acceptable. It is an excellent chapter and could not have been done in black and white and to their credit was not.
This time they have included the rest of the book and given me rich colorful pictures that illustrate the grades and give me a better and deeper understanding of what I am looking at.
The addition of color took this book from handy guide to "gotta have it".
The evolution of grading marches on and with it now has the evolution of guides to grading standards. The first photographic guides were revolutionary because they had pictures to associate with the grades. As the guides improved, the ANA Grading Standards would raise the bar in adding better and more descriptive text, making the books more informative and easier to read. The advent of the PCGS guide established grading standards as seen from the perspective of third party graders.
This book is the next step in the evolutionary process of grading guides. The full color pictures simply bring these coins to life.
Grading is a visual art and in order to learn to do it better, you need to visually train your eye to recognize patterns. In my opinion,  it is the pattern recognition skills that make you good at grading.
Color enhances the visual process in ways for which you can't compensate. I'm not saying that the black and white guides "aren't good enough", but I am saying that they have become a lesser alternative. Technology has indeed advanced once more!
There are certain books that you'd be hard pressed to improve. I thought that the ANA Grading Standards was one of them, but I have been pleasantly surprised. Kudos to Ken Bressett and Q. David Bowers on raising the bar, and kudos to the ANA and Whitman for bestowing it upon the collecting public.